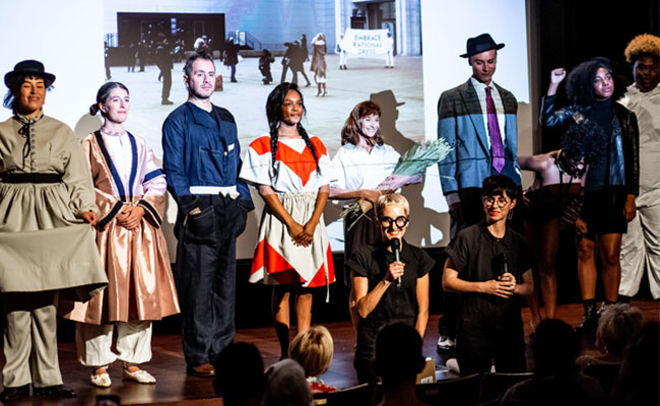 The Rational Dress Society (RDS) is a counter-fashion collective founded by Chicago-based designer Abigail Glaum-Lathbury and Los Angeles-based artist Maura Brewer. During RDS's residency at BGC, Glaum-Lathbury and Brewer will continue work on "Make America Rational Again" (MARA), a project that builds on the success of RDS's JUMPSUIT, an open source, ungendered monogarment to replace all clothes in perpetuity. With MARA, they are working with experts in the field of textile recycling to transform a collection of used and discarded Ivanka and Donald Trump brand garments into new material. The reconstituted refuse will ultimately be made into new JUMPSUITs and sold to raise both awareness and funding for garment workers' organizations.
While in residence, RDS will offer two opportunities for public interaction: a Make-Your-Own-JUMPSUIT workshop for adults on Saturday, September 21, and A History of Counter-Fashion, a runway show at the Theater at MAD (Museum of Arts and Design) that features 10 models, each wearing counter-fashion from the late 1700s to the present day.

---
Maura Brewer received her MFA from UC Irvine in 2011 and was a 2014-2015 Whitney Independent Study Program fellow. Her videos and performances have been exhibited internationally. She teaches at ArtCenter College of Design.

Abigail Glaum-Lathbury is assistant professor of fashion at the School of the Art Institute of Chicago. For the past ten years, she has produced ready-to-wear collections under her labels Elmidae and Abigail Glaum-Lathbury. She has participated in many juried markets and showrooms, selling her collections internationally.

JUMPSUIT is disseminated in two forms, as a premade garment and an open source pattern, available to download free of charge. Rooted in the visual language of denim and the history of work-wear, JUMPSUIT imagines the possibility of an egalitarian garment, liberated from the signifiers of class, race and gender that inscribe our usual relation to clothes. JUMPSUIT accommodates 248 different body sizes, using non-gendered terminology. The design draws on histories of revolutionary fashion, from the Sans-culotte movement of the early nineteenth century to the Futurist TuTa of the 1910s. JUMPSUIT accommodates a wide variety of body types while preserving a manufactured sameness among individual wearers, thus drawing upon histories of feminist and utopian garment design. JUMPSUIT is a wearable garment, but it is also a conversation — a collective reimagining of our relationship to dress. To this end, the Rational Dress Society organizes lectures, performances, and make-your-own-JUMPSUIT workshops to facilitate public debate around questions of fashion, identity and consumption.