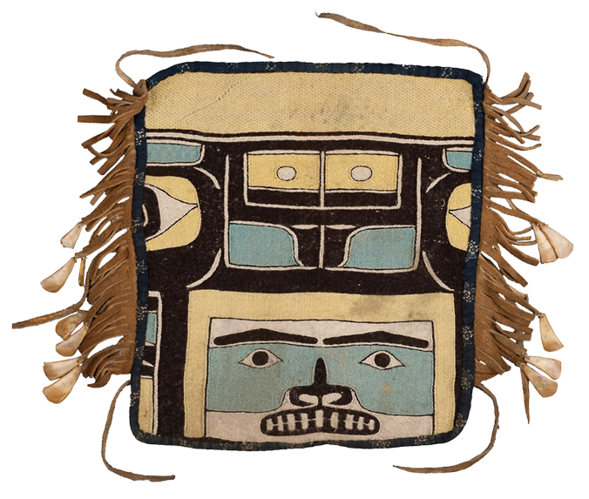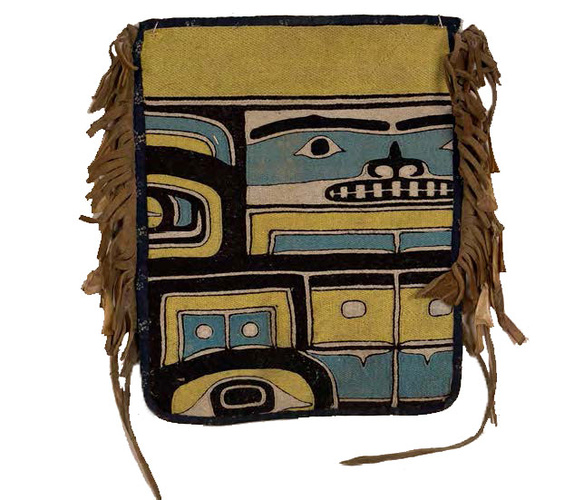 Unknown maker, Tlingit
Cedar bark, mountain goat wool, leather, calico, puffin beaks
Collected by George T. Emmons in 1916
American Museum of Natural History 16.1/1613 C
In the late nineteenth century, Chilkat robes and other fabrics were sometimes cut into strips by Tlingit potlatch hosts and distributed to rival chiefs as a conspicuous sign of wealth. Recipients occasionally assembled the fragments into new garments, such as this legging—one component of a full set of dance regalia made from recycled Chilkat cloth. In such cases, the singular robes with their complete designs ceased to merely display crests, while the multiple pieces were reused and revalued. The legging is trimmed in floral patterned calico (a Euro American trade item) as well as leather fringe ornamented with puffin beaks (popular in Native trade networks), which make a clacking sound when struck against each other during use. It was surely danced: it features worn ties, a generally soiled appearance, the acrid smell of smoke, and bits of eagle down from a chief's headdress matted in the fringe. As ceremonial objects were considered more precious by their owners after they had been validated through use, these qualities likely added both ritual prestige and exchange value to the object.
---
Click here for a discussion about this object (Donna Cranmer)