The domestic legacy of the hearth, the heating source that cared for families by gathering them around food and warmth, has changed across millennia.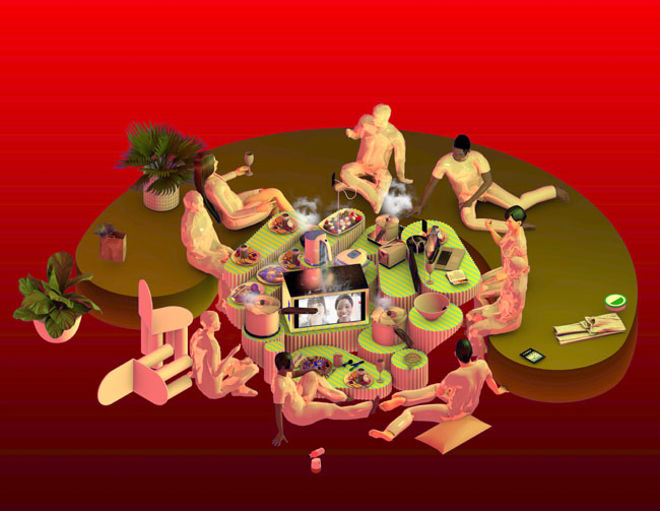 No longer requiring culinary expertise or immediate presence, today's smart kitchen has diffused the hearth into an ecosystem of increasingly small and specific networked appliances, oftentimes used for socializing online. As our 2020-2021 digital artists in residence FOREIGN OBJECTS will exhibit an interactive web-based narrative about the spatial politics of heat, food, and gathering across history. A reconfigured contemporary kitchen will be featured that reclaims the sociality and labor of food as a collective form through new rituals, spatial devices, and recipes.
---
FOREIGN OBJECTS is a design and research studio exploring the internet through the production of cultural artifacts. We build environments, tools and discourses that imagine new ways of living with the web.Formed by four foreigners at MIT, the interdisciplinary nature of our work draws on backgrounds in engineering, architecture, web design and conceptual art. Meeting at the intersection of technology, culture and the built environment, our collaboration interrogates the networked world with a curious and critical eye. We work with artists, institutions and organizations to build projects that create more playful, experimental, and meaningful connections between the internet and society.
FOREIGN OBJECTS's work has been presented publicly at The Internet Archive's Decentralized Web Summit (2018), the New Museum's cultural incubator (NEW INC 2019-20) and the Bauhaus-100 Internationales Kolloquium (2019). In 2019 we were recipients of the Mozilla Creative Media Award, for a project exploring the future of human-like chatbots and other autonomous agents in society. In 2020 we are the inaugural Digital Artists in Residence at the Bard Graduate Center, examining the spatial politics of care in the smart kitchen.
Individually, they work across a range of tactics and tools, from circuit design to art criticism. Our work has appeared in Postmasters Gallery, Schloss Solitude+ZKM, Delfina Foundation, Yve YANG Gallery, Frieze Magazine, Interface Critique Journal, Journal of Design and Science, Sakiya, Science Gallery London, SFMOMA, MIT School of Architecture and Planning, AIGA Eye on Design and Dutch Design Week.

They are based at NEW INC, at the New Museum in NYC.
---
Agnes Fury Cameron
(b. Brighton, UK) is a co-director of FOREIGN OBJECTS, where she develops hardware and software, and leads technical research projects. Her interests include simulation and modelling, machine intelligence and environmental sensing. She is a graduate of the MIT Media Lab, and holds a MEng degree in Information and Computer Engineering from the University of Cambridge.

Gary Zhexi Zhang
(b. Suzhou, China) is a co-director of FOREIGN OBJECTS, where he focuses on cultural consultancy, curatorial research and exhibition design projects. He is an artist and writer whose work navigates socio-technical systems such as ecology, finance and the web. Gary received his S.M. from the MIT Program in Art, Technology and teaches communication design at the New School.

Kalli Retzepi
(b. Thessaloniki, Greece) is a co-director of FOREIGN OBJECTS. She is a graduate of the MIT Media Lab and also holds advanced degrees in engineering and neuroscience. Her work uses technology, design and images in order to explore the politics of digital interfaces, the narrative of the user and to imagine new metaphors for the Web.

Sam Ghantous
(b. Muscat, Oman) is a co-director of FOREIGN OBJECTS, where he focuses on design, architecture, and new media. His work examines the cultural impact of contemporary media technologies on form, collectivity, and communication. He has taught at Cornell AAP and MIT School of Architecture, from where he received his Master of Architecture.