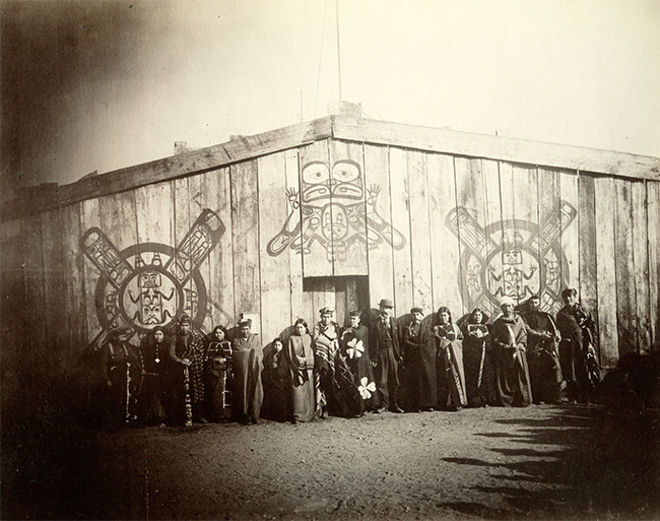 Indigenous Experience at World's Fairs
is a conversation with
Lee D. Baker
, Professor of Cultural Anthropology, Sociology, and African and African American Studies at Duke University;
Laura Graham
, Professor of Anthropology at The University of Iowa;
Russell Potter
, Professor English and Media Studies at Rhode Island College and
Aaron Glass
, curator of
The Story Box
Franz Boas, George Hunt and the Making of Anthropology
.
---
Lee D. Baker
is Professor of Cultural Anthropology, Sociology, and African and African American Studies at Duke University. He received his B.S. from Portland State University and doctorate in anthropology from Temple University. He has been a resident fellow at Harvard's W.E.B. Du Bois Institute, the Smithsonian's National Museum of American History, Johns Hopkins's Institute for Global Studies, The University of Ghana-Legon, the American Philosophical Society, and the National Humanities Center. His books include
From Savage to Negro: Anthropology and the Construction of Race, 1896-1954
(1998),
Life in America: Identity and Everyday Experience
(2003), and
Anthropology and the Racial Politics of Culture
(2010). Although he focuses on the history of anthropology, he has published numerous articles on such wide ranging subjects as socio-linguistics to race and democracy. Baker is also the recipient of Richard K. Lublin Distinguished Teaching Award. He served as Dean of Academic Affairs from 2008-2016.
Aaron Glass
is an Associate Professor at Bard Graduate Center focusing on various aspects of First Nations visual art and material culture, media, and performance on the Northwest Coast of North America, both historically and today. Themes recurring in his work include colonialism and indigenous modernities, cultural brokerage and translation, the politics of intercultural exchange and display, discourses of tradition and heritage management, and cultural and intellectual property. My dissertation, along with a companion film,
In Search of the Hamat'sa: A Tale of Headhunting
,
examines the ethnographic representation and performance history of the Hamat'sa or "Cannibal Dance" of the Kwakwaka'wakw (Kwakiutl) of British Columbia. His Current projects include collaborating with the U'mista Cultural Centre to restore and present Edward Curtis's 1914 silent film,
In the Land of the Head Hunters,
and to create a critical, annotated, digital edition of Franz Boas's
pioneering 1897 monograph
on the Kwakwaka'wakw culture.
Laura R. Graham
is Professor of Anthropology at The University of Iowa. Her current research focuses on politics of indigenous representation to broad publics among indigenous peoples of lowland South America, specifically Xavante of central Brazil and Wayuu of Venezuela and Colombia. She is interested in language use in national and international arena and notions of cultural consciousness, cultural and intellectual property, and representations of indigeneity in politics and advocacy, indigenous media and human rights. Her work promotes engaged ethnography and participant advocacy. She is author of the award-winning book,
Performing Dreams: Discourses of Immortality Among the Xavante Indians of Central Brazil
(University of Texas Press, 1995) and has published many articles on Xavante and Wayuu.
Russell Potter
is an American writer and Professor of English and Media Studies at Rhode Island College. His teaching areas are
Victorian literature and visual culture, history of arctic exploration, history of Media, Hip-hop culture, linguistics, literary theory. His books include
Spectacular Vernaculars: Hip-Hop and the Politics of Postmodernism
(1995) and
Arctic Spectacles: The Frozen North in Visual Culture
, 1818-1875 (2007), as well as a novel,
Pyg: The Memoirs of a Learned Pig
(2011). He teaches at Rhode Island College, where he is editor of the Arctic Book Review. He also worked as a consultant on, and appears in, the Nova documentary Arctic Passage.
---
We are also pleased to extend complimentary need-based community tickets by request to all ticketed events. To learn more, please email
public.programs@bgc.bard.edu
.

Leading support for Public Programs at Bard Graduate Center comes from Gregory Soros and other generous donors.