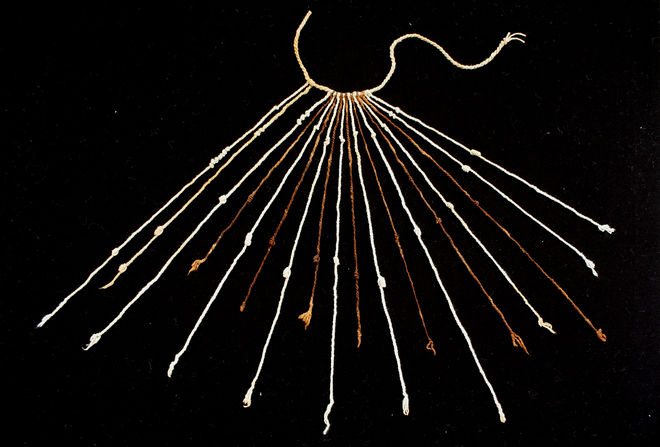 There has been much concern and criticism in the West over the absence of the voices of "peoples without history" in the writing of local, regional, and global histories. This concern has been especially profound insofar as it pertains to societies that did not have in the past, or that do not have today, their own traditions of written history. The Inkas of the Pre-Columbian Andes represent a striking case study in this regard, because, while Inka administrators had the use of an exceptionally complex and highly efficient instrument for record keeping, in the knotted-string khipu (or quipu, "knot"), we have not to date been able to draw historical information from these knotted records for writing a history of the Inka Empire. Gary Urton's recently published book, Inka History in Knots: Reading Khipus as Primary Sources (Univ. of Texas Press, 2017), lays out a methodology for approaching khipu accounts as sources for writing Annales-style histories of the Inka state—i.e., histories based on administrative data, such as censuses, tribute records, storehouse accounts, etc. This symposium brings together eight Andean scholars to discuss and debate the question of whether or not, and if so how, we might draw on knotted cord accounts from the pre-Inka Wari, the Inka empire, and those from Andean subjects of the Spanish Colonial state in order to begin to understand how Andean peoples constructed representations of their own societies. The principal challenges will be, first, to identify the structures, physical features, organizational principles, and semiotic properties of cord accounts in these different periods in the Andean past, and second, to determine how we might draw on these constructions to begin to write histories of Andean societies based on Andean sources.
---
Peter N. Miller
Bard Graduate Center
Welcome
Gary Urton
Harvard University
Introduction
---
Gary Urton
Harvard University
Finding Time for History in the Inka Khipus
---
Jeffrey C. Splitstoser
George Washington University
The Large Wari Khipu at Dumbarton Oaks
---
Jon Clindaniel
Harvard University
Towards an Understanding of Non-numerical Inka Khipu Semiosis: Implications for the Interpretation of Inka History Using Primary Sources
---
Bruce Mannheim
University of Michigan
Three Commensuration Problems in Interpreting Khipus
---
Terence N. D'Altroy
Columbia University
The Dynamic Formation of Imperial Knowledge
---
Sabine Hyland and Sarah Bennison
University of St Andrews
"These Are Our Khipus!" The Ritual Khipu Boards of San Pedro de Casta, Peru
---
José Carlos de la Puente Luna
Texas State University
Khipus as Legal Archives: Tribute, Justice, and Controlled Translation in Early Colonial Peru
---
Frank Salomon
University of Wisconsin–Madison
The Long Afterlives of Central-Peruvian Khipu Patrimonies
---
Panel Discussion
---
The Mr. and Mrs. Raymond J. Horowitz Book Prize is awarded annually to the best book on the decorative arts, design history, or material culture of the Americas. The prize is a symposium devoted to the winning book, and planned by its author. Gary Urton's book Inka History in Knots: Reading Khipus as Primary Sources won the inaugural prize in 2017.