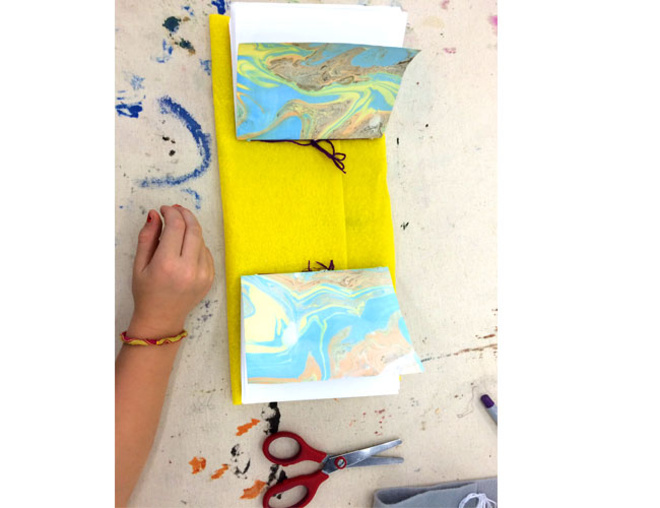 In this workshop, led by Textile Arts Center teaching artists, students will learn will learn the basics of bookbinding and book structures while creating a handmade notebook. Additionally, students will also experiment suminagashi, an ancient marbling technique, to create different designs on their notebook's paper.
Full Workshop Schedule:
Saturday, April 21
11 am–12.30 pm
Drawing with Thread
Saturday, May 19
11 am–12.30 pm
Handmade Sumingashi Notebooks
Saturday, June 16
11 am–12.30 pm
Woven Beaded Jewelry
Saturday, June 23
11 am–12.30 pm
Woven Wall Hangings
---
Textile Arts Center (TAC) is a NYC-based resource facility dedicated to raising awareness and understanding of textiles through creative educational programs for children and adults. TAC aspires to unite the textile community and advocate for the handmade by providing accessible, skills-based classes that reinvigorate engagement with traditional crafts. Techniques like weaving, sewing, and dyeing are practical, connective, and process-driven—common denominators for designers, artists, and creative practitioners around the world.

---
Leading support for Public Programs at Bard Graduate Center comes from Gregory Soros and other generous donors.