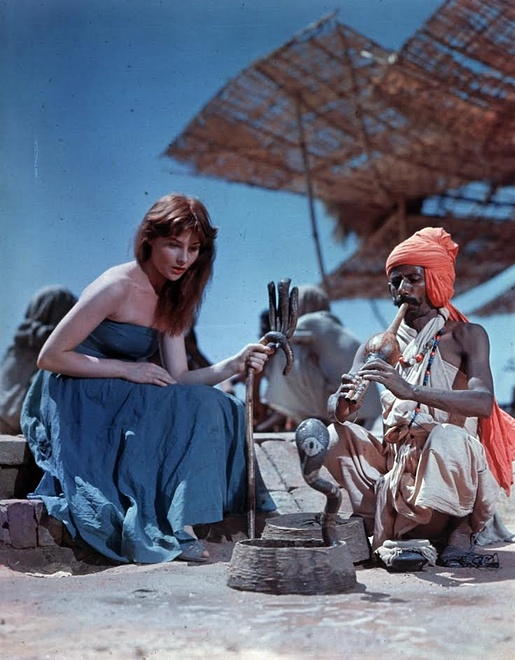 Bard Graduate Center's exhibition on the life of artist, designer, journalist, and colonial administrator John Lockwood Kipling (1837-1911) opens up questions about visual representations of the colonial encounter in India and its aftermath. Lockwood Kipling, a significant figure in his own time, is better remembered today as Rudyard Kipling's father. He lent his considerable talents to poetry, journalism, book illustrations, editing, museum design, furniture-making, and the plastic arts more generally. In Screen India, a film series that accompanies the exhibition, we turn to cinema through the works of artists who came of age in the shadow of empire, war, and, decolonization to explore issues of identity, interracial intimacy, and friendship across the colonial divide. Set in the context of a post-imperial world caught up in its own predicament about cross-cultural relations, and coming seventy years after the end of British colonial rule in the India, Screen India presents a series of films by renowned directors from India, France, Italy, Britain, and the United States. Scholars from around the country will introduce each film followed by a screening.
Adults $8 / Students and Seniors $5. Five-event pass, $35. Gallery admission is free with a purchased ticket. For tickets and information visit: bgc.bard.edu
---
Rochona Majumdar is Associate Professor of the departments of Cinema and Media Studies and South Asian Languages and Civilizations at the University of Chicago. She has written extensively on the history of gender, marriage, and family in India, postcolonial thought and history, Indian intellectual history, and the history of Indian cinema. Majumdar's books include Marriage and Modernity: Family Values in Colonial Bengal (Duke University Press, 2009), Writing Postcolonial History (Bloomsbury, 2010). She is co-editor of Civilizing Emotions (Oxford University Press, 2015) and From the Colonial to the Postcolonial: India and Pakistan in Transition (Oxford University Press, 2007). She is currently finishing a book entitled Art Cinema in India that analyzes the works of renowned Indian directors such as Satyajit Ray, Ritwik Ghatak, and Mrinal Sen to demonstrate unexpected alliances between art and popular cinema in India during a period of postcolonial political upheaval.


Priya Jaikumar
is Associate Professor at the Department of Cinema and Media Studies in University of Southern California's School of Cinematic Arts. Her book
Cinema at the End of Empire
(Duke University Press, 2006)details the films and intertwined film policies of Britain as a declining empire and India as a nascent nation between 1927 and 1947. She is currently completing a book titled
Where Histories Reside: India as Filmed Space
about films shot on location in India, which considers how film history gets rewritten when we focus on questions of place and space in addition to time. Priya has published several essays on film policy, transnational feminism, European and postcolonial cinema in scholarly journals such as
Cinema Journal, The Moving Image, Post Script, Screen, World Literature Today
,
Velvet Light Trap
, and anthologies including
Hollywood Abroad
,
Transnational Feminism in Film and Media, Outsider Films
,
Postcolonial Cinema Studies
,
Empire and Film
,
Silent Cinema and the Politics of Space, Routledge Companion to Gender and Cinema
, and more. Her essay, "An Accurate Imagination" published in
Empire and Film
won the Society for Cinema and Media Studies Best Essay award in 2013. At the University of Southern California, Priya teaches courses at the undergraduate and graduate level on post-war international cinema, historical genre films, global media, Indian cinema, postcolonial cinema, migrant and refugee cinemas, space, place and cinema, among other topics. In addition to academia, Priya has a professional background in television and print journalism.
---
October 13, 2017: Ghare Baire (Home and the World), 1984. Directed by Satyajit Ray. Introduced by Rochona Majumdar. 120 minutes.

November 3, 2017: A Passage to India, 1984. Directed by David Lean. Introduced by Sangita Gopal. 164 minutes.

November 17, 2017: The River, 1951. Directed by Jean Renoir. Introduced by Priya Jaikumar. 99 minutes.

December 1, 2017: Bhowani Junction, 1956. Directed by George Cukor. Introduced by Debashree Mukherjee. 108 minutes.

January 5, 2018: India: Matri Bhumi, 1959. Directed by Roberto Rossellini. Introduced by Tom Gunning. 90 minutes.

We are also pleased to extend complimentary need-based community tickets by request to all ticketed events. To learn more, please email [email protected].

Leading support for Public Programs at Bard Graduate Center comes from Gregory Soros and other generous donors.