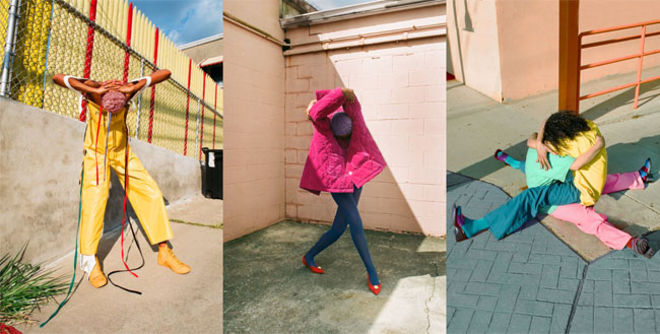 Fashion, Anxiety and Society: Gender

With
Margaret H. Darrow
and
Kate Strasdin
, moderated by
April Calahan
and
Cassidy Zachary
, creators of
Dressed: The History of Fashion
podcast.

Fashion, Anxiety, and Society
is a conversation series curated by
Kristen J. Owens
. Organized in conjunction with Bard Graduate Center Gallery's fall exhibition,
French Fashion, Women, and the First World War
, these monthly conversations explore contemporary questions of gender, labor, justice, and subversion as they relate to fashion.
Other conversations in the series include:

Fashion, Anxiety and Society: Labor
With Marissa Nuncio, Minh-Ha T. Pham and Elizabeth Wissinger; conversation curated and moderated by Sara Ziff
Thursday, October 24, 2019

Fashion, Anxiety and Society: Justice
With Rikki Byrd, Rhea Combs, Tanisha C. Ford and Eric Darnell Pritchard
Thursday, November 14, 2019

Fashion, Anxiety and Society: Subversion
With Lucia Cuba, Fawn Krieger, and Otto von Busch
Thursday, December 12, 2019
---
Meet the Speakers
Margaret Darrow is a modern European historian specializing in French social and women's history. Recently her work has focused on women and war—specifically French women in the Franco-Prussian War and the First World War. After receiving her PhD from Rutgers University, she joined the Dartmouth College faculty in 1980; she teaches in the Department of History and the Gender and Women's Studies Program. Her first book, Revolution in the House; Family, Class and Inheritance in Southern France, 1775-1825 (Princeton University Press, 1989) is a study of the impact of the French Revolution on family relationships and practices, especially marriage and inheritance, in the early nineteenth century. Since that book, her research moved a century forward and resulted in the publication of French Women and the First World War: War Stories of the Home Front (Berg, 2000). Her current research explores French women's patriotism and citizenship at the end of the nineteenth century. A special issue of French Historical Studies in the spring of 2008 published part of this research as "'In the Land of Joan of Arc:' The Patriotic Education of Girls and the Prospects of War in the Early Third Republic.

Kate Strasdin is a senior lecturer in cultural studies at Falmouth University in the South West of the UK and a specialist visiting lecturer at the DeTao Masters Academy in Shanghai. Her research centers on the dress practices of women in the nineteenth and early twentieth centuries, diverse figures ranging from early women mountaineers to Queen Alexandra. Her first book, Inside the Royal Wardrobe—A Dress History of Queen Alexandra, was published by Bloomsbury Academic in 2017. She is an accredited lecturer for The Arts Society and is deputy curator of the Totnes Fashion and Textiles Museum.

Meet the Moderators
April Calahan is a special collections curator at the Fashion Institute of Technology, where she also serves as instructor in the History of Art Department. She has lectured on the history of fashion at the Dallas Museum of Art, Los Angeles County Museum of Art, Parsons School of Design, and Yale University. She is the author of Fashion Plates: 150 Years of Style (Yale University Press, 2015), co-author of Fashion and the Art of Pochoir (Thames & Hudson, 2015), and contributing author to the anthology The Hidden History of American Fashion: Rediscovering 20th-century Women Designers (Bloomsbury, 2018).

Cassidy Zachary is a fashion historian and author who lives in Albuquerque, New Mexico, where she also works as a costume designer and supervisor for film and television. She is the co-author of Fashion and the Art of Pochoir (Thames & Hudson, 2015) and a contributing author to numerous publications including the recent The Showgirl Costume (McFarland 2019). Zachary lectures around the country at venues such as the Los Angeles County Museum of Art and the Costume Society of America, and she founded the popular fashion history blog and Instagram account, The Art of Dress.

The way in which we dress our bodies can be used to express gender identity, politics, and even our national origins. Each week, Dressed: The History of Fashion podcast delves into the incredibly rich social and cultural histories behind clothing, exploring themes and stories that speak to the very heart of who we are. Hosts April Calahan and Cassidy Zachary's work as fashion historians has been featured by Vogue, Harper's Bazaar UK, WWD, Architectural Digest, and the Business of Fashion.

Meet the Curator
Kristen J. Owens is an arts administrator, curator, researcher, and archivist with interests in visual culture, fashion, and African American studies. She works at the intersection of material preservation, information access, and arts education. As a curator, she has co-created exhibitions including Performing Fashion: New York City at NYU's 80WSE Gallery (2017) and Dressed at Rutgers University-Newark's Paul Robeson Galleries (2018). As a researcher, she has presented papers on African American photography and conduct literature, such as etiquette manuals, at conferences including Fashioning the Black Body in Bondage and Freedom (Brooklyn, 2017) and the Popular Culture Association/American Culture Association National Conference (San Diego, 2017). Owens holds an MA in visual culture: costume studies and an MS in library and information science from New York University's dual degree program with LIU Palmer. She holds a BA in fashion studies and has returned to her alma mater, Montclair State University, as a lecturer in that subject.
---
Leading support for Public Programs at Bard Graduate Center comes from Gregory Soros and other generous donors.