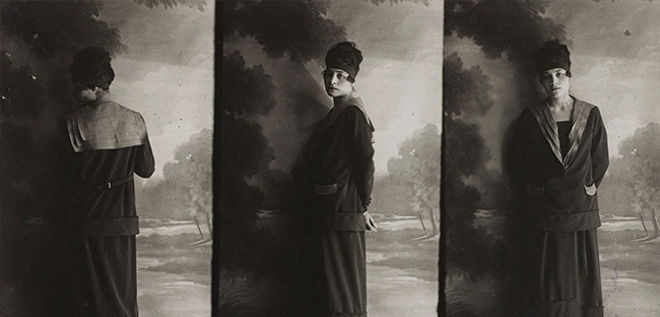 New Perspectives on French Fashion History
highlights new research by emerging fashion scholars. Come to just one session or take all five and learn about the history of fashion display in Parisian department stores and in presentations at World's Fairs, the transformative impact World War I had on the French fashion industry, cultural shifts brought about by the introduction of ready-made fashion in the 1950s and 60s, and much more.
Individual classes:
$100 Adults
$85 Students and Educators
$75 BGC Members
Take all five sessions and save!
$450 Adults
$375 Students and Educators
$350 BGC Members
Space is Limited.
---
Session Two,
War Time Fashion
, more details to be announced.

Meet the Professors

Maude Bass-Krueger is a historian who thinks and writes about visual and material culture, notably as it relates to fashion and architecture. She received her PhD from Bard Graduate Center in 2016. Bass-Krueger is currently based at the University of Leiden, where she is working on the project "Printing the Past. Architecture, Print Culture, and Uses of the Past in Modern Europe" (PriArc). She co-directs the seminar "Histoire + Mode" at the IHTP/CNRS and co-founded the project "Culture(s) de mode," which is supported by the French Ministry of Culture and Communication.

Sophie Kurkdjian holds a PhD in history from Université Paris I, Panthéon-Sorbonne, where she specialized in the history of the fashion press at the beginning of the twentieth century. Since 2012, she has been a research fellow at the Institut d'Histoire du temps present (IHTP) at Le Centre national de la recherche scientifique (CNRS), in Paris, where she co-directs a research seminar on history and fashion. In 2018, she co-created the French fashion research network, Culture(s) de Mode, in collaboration with the Ministère de la Culture. Her main lines of research focus on the history of fashion media, and on the economic, social, and cultural transnational circulations which occurred in the fashion industry at the end of the nineteenth and the beginning of the twentieth centuries.
---
Other classes in this course include:

Session 1: Fashion on Display, 1900–1937
Taught by Paula Alaszkiewicz
Monday, October 7, 2019

Session 3: Gender and Ready-Made Clothing
Taught by Alexis Romano
Monday, October 21, 2019

Session 4: Fashion and Labor in Nineteenth Century France
Taught by Susan Hiner
Monday, October 28, 2019

Session 5: Constructing Femininity: 1980–2000
Taught by Francesca Granata
Monday, November 4, 2019
---
We are also pleased to extend complimentary need-based community tickets by request to all ticketed events. To learn more, please email
[email protected]
.

Leading support for Public Programs at Bard Graduate Center comes from Gregory Soros and other generous donors.