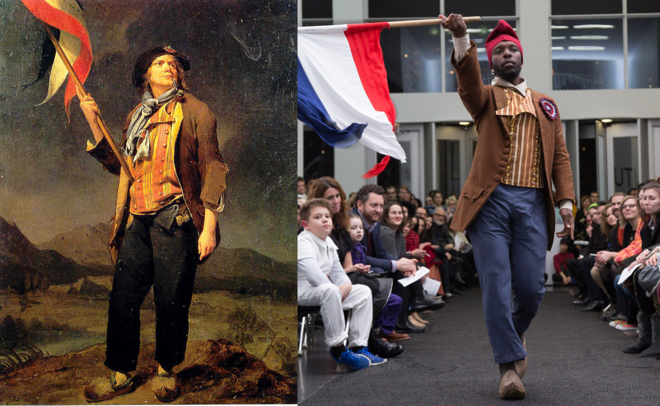 It's a fashion runway like you have never seen. Rational Dress Society co-founders, Abigail Glaum-Lathbury and Maura Brewer, invite you to participate in a collective re-imagining of our relationship to dress. The Rational Dress Society Presents a History of Counter-Fashion is a performance lecture and fashion presentation that chronicles a history of revolutionary and counter-fashion from the late 1700s to present day.


According to theorist Anat Helman, "Counter-fashion occurs when members of a subculture, sharing the same political, social or other agenda, chose to dress in a particular manner in order to symbolize their goals." Following Helman's definition, we will present a history of counter-fashion, starting with the sans-culottes of revolutionary France, moving through the feminist dress reform movement of the 1850s and the Futurist TuTa of the 1910s. The presentation will conclude with modern examples of counter-fashion, like the emergence of the dashiki in the US during the Civil Rights movement and the Italian Tute Bianche of 1990s.

The slide lecture will be accompanied by ten models, each wearing an example of historical counter-fashion, who will walk down a runway in a live demonstration of each garment to an original score composed by Michael Webster. These musical and fashion interludes will punctuate the lecture and culminate in a complete demonstration of the history of counter-fashion timeline, echoing the end of a traditional fashion runway show.

The garments presented will include:
· The sans-culottes
· The feminist bloomer
· The Oneida pantalette
· The Futurist TuTa
· Prodezodezhda garment design of the Soviet Union
· The Zoot Suit
· Kibbutz-wear
· The Black Panther Party uniform
· The monokini
· The Italian Tute Bianche

Both before and after the presentation, models wearing the historical garments will mingle with the guests, answer questions, and disseminate information about the history of counter-fashion.
---
Learn About The Rational Dress Society
The Rational Dress Society is a counter-fashion collective founded by Chicago-based designer Abigail Glaum-Lathbury and Los Angeles-based artist Maura Brewer. Together they produce JUMPSUIT, an open source, ungendered monogarment to replace all clothes in perpetuity. JUMPSUIT is a wearable garment, but it is also a conversation - a collective reimagining of our relationship to dress. To this end, the Rational Dress Society organizes lectures, performances, and make-your-own-JUMPSUIT workshops in order to facilitate public debate around questions of fashion, identity and consumption.

Maura Brewer is a Los Angeles-based visual artist. She received her MFA from University of California, Irvine in 2011 and was a 2014–2015 Whitney Independent Study Program fellow. Her videos and performances have been exhibited internationally. She teaches at The University of Southern California.

Abigail Glaum-Lathbury is a Chicago-based designer, and assistant professor of fashion at the School of the Art Institute of Chicago. For the past ten years, she has produced ready-to-wear collections under her labels Elmidae and Abigail Glaum-Lathbury. She has participated in many juried markets and showrooms, selling her collections internationally.
---
We are also pleased to extend complimentary need-based community tickets by request to all ticketed events. To learn more, please email
[email protected]
.

Leading support for Public Programs at Bard Graduate Center comes from Gregory Soros and other generous donors.