Pop Up Exhibition:
WHY DID THE JALAPEÑO PUT ON A SWEATER
November 12, 2019–December 2, 2019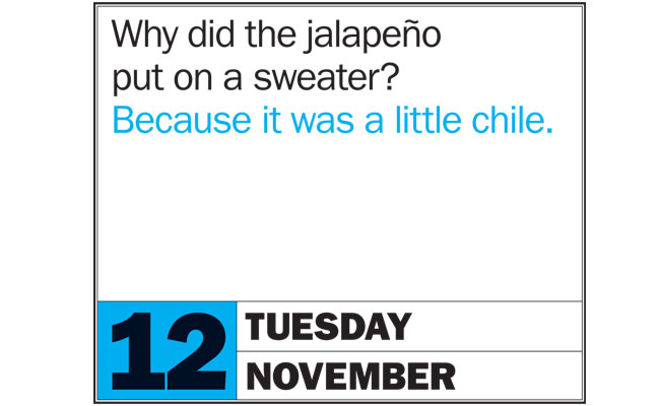 Emily Spivack's WHY DID THE JALAPEÑO PUT ON A SWEATER? is a compendium of clothing-related jokes that references the classic joke-a-day desktop calendar. Every day during the exhibition, a new joke will be revealed. For the past year, Spivack has been building an archive of these jokes as an antidote to the seriousness of fashion.

---
Emily Spivack is an artist, writer, and editor whose work draws from contemporary culture, clothing, history, and our relationship to everyday objects. Spivack is the author of Worn in New York (2017), a contemporary cultural history of New York told through clothing, which is a follow-up to her New York Times best seller, Worn Stories (2014), and wornstories.com (2010), collections of stories about clothing and memory. In her column for T: The New York Times Style Magazine, "The Story of a Thing," Spivack interviews cultural figures about objects in their homes that provide insight into their interests and quirks. As artist in residence at MoMA (2017–2018), Spivack invited visitors to contribute to "An archive of everything worn to MoMA from November 1, 2017, to January 28, 2018," a project that is now a permanent part of MoMA's Archives. Her 2017 off-site installation for the Honolulu Museum of Art, "Medium White Tee," was a fulfillment of President Obama's stated fantasy to run a T-shirt shack that sold only medium-sized white tees as a respite from his nonstop decision-making.