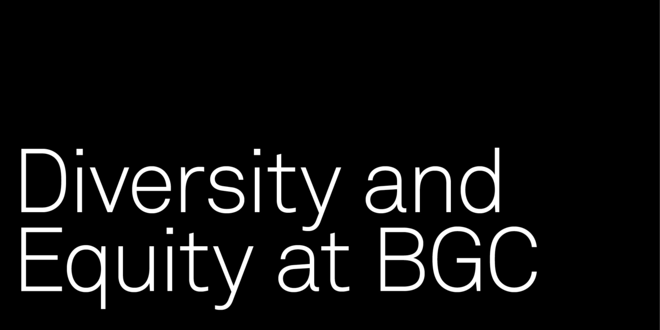 September 9, 2020 Letter to Alumni
The following letter by Bard Graduate Center Dean Peter N. Miller was sent to all BGC alumni on September 9, 2020.
Greetings at the beginning of this new school year! I sincerely hope that you and those you care about are doing ok, faring as well as possible under the circumstances. Despite it all, I hope the summer has been a time of learning, reflection, and rest.
I want to return to the subject of my last letter to you and to address the concerns you have raised with the BGC Board of Trustees and Management Committee. Even as we have spent the last few months preparing for the new academic year (and re-imagining BGC's education under many different scenarios), issues of diversity, equity, accessibility, and inclusion at BGC remain top of mind.
In my letter to you in June, I wanted to begin with honesty because without that foundation whatever we build will be weak. In that letter, I acknowledged our institutional failings. I talked about what we were doing and welcomed you to be involved. We heard your calls for a more concrete and visible commitment to social justice at BGC, and indeed that is our desire as well. We so appreciate your offer to work with us and help us build a stronger and more equitable BGC. As the institutions that employ BGC graduates—particularly those in higher education and the museum world—face unprecedented challenges, your desire to join us in our efforts to build a more diverse research and learning environment means a great deal.
In addition to the open letter many of you signed last month, many other alums have reached out to me through personal emails and phone calls this summer. On behalf of the BGC Board and the Management Committee, I want to thank each of you again for taking the time to connect, and for showing that you care about the future of the BGC, the future of the field, and the role we all have to play in greater society. Along with Susan Weber and Nancy Druckman (chair of the Board), as well as the trustees, faculty, and staff, I have been listening intently to these conversations. I know there is a great deal of pain out there, and hurt. I am deeply sorry for what BGC has done to contribute to that. I know we cannot erase our mistakes, and yet we have to start somewhere if we are to get to a better place. I'd like to take the time here to let you know what we are doing, and to treat this as the beginning of a dialogue.
We are starting with annual racial justice training for everyone: students, faculty, staff, trustees. I've told you already about the DEAI plan that was developed by staff and faculty committees and approved by the Management Committee. As part of adopting these recommendations, which extend to hiring and internal comportment, we will change how we measure ourselves going forward. And we will talk about it to you, as well, with planned DEAI segments in our monthly newsletters.
We hope you will consider joining us in this work. We would like to invite you to be part of a forum on DEAI at BGC that I hope you will consider being a part of. Facilitated by Ama Codjoe, an independent social justice consultant, our goal will be to establish:
how we might prioritize the initiatives proposed in the Alumni Open Letter of August 7, based on which will have the greatest impact on current and future students and balanced with what BGC is capable of doing now and what we aspire to do in the future;
how we can best integrate the recommended new initiatives with what is already under way; and
how alumni and current students can best continue collaborating with BGC faculty and staff.
This forum will be the beginning of a long-term engagement that will allow us to include you in our efforts in a meaningful way and ensure you have input into what form this participation takes for the future. This will also be an opportunity for you to hear directly from BGC about what we are doing. We'll be in touch later this month with an invitation and more specific event details.
In the meantime, as a preface to these upcoming discussions, please find a summary below of what BGC has already done, is doing currently, or has committed to doing this academic year.
DEAI Planning
In May 2020, BGC's DEAI Working Group presented a set of initial recommendations to the BGC Management Committee. These recommendations were adopted and will be implemented starting this academic year. They include
racial justice training for the entire BGC community;
a series of professional development and workshop opportunities around diversity, equity, access, and inclusion for faculty, staff, and students;
developing a hiring toolkit of best practices for conducting equitable searches that attract a diverse pool of applicants; and
supporting faculty in researching and sharing best practices in the classroom around DEAI issues.
In an effort to be transparent about the ways DEAI initiatives are being implemented across the institution, the Management Committee has requested monthly meetings from the DEAI Working Group; additionally, a section of the BGC website will be devoted to sharing the outcomes of our DEAI initiatives.
Land Acknowledgement
While BGC has made a land acknowledgement at most events over the past year, we are planning to have a common statement which, in addition to serving as the basis for things said at events for the coming year, will also be published on the BGC website and in our buildings. A faculty committee is drawing up a text for the full GCM's consideration and we plan to make a final decision by the October meeting.
Staffing and Hiring
In adopting the DEAI Working Group recommendations, BGC has committed to improving and standardizing its hiring practices to promote diversity and equity in our searches and to implementing 360-degree performance appraisals of staff. We are committed to increasing representation by Black people, Indigenous people, and people of color throughout the organization (board, faculty, staff) as openings arise. In fact, we would like to actively solicit alumni recommendations for board, faculty, and staff positions as well as for student recruitment, and this fall, BGC's development department will be in touch with you to establish a process for doing this. We wish to decide on how to implement the toolkit by the end of this calendar year.
We are mindful of the request that we create a new staff position as head of DEAI. This has happened at several large institutions, but we are not a large institution and we are not in a position to make this staff hire. Rather, we hope to use the agility that comes with being a smaller institution to our advantage by sharing the responsibilities of a DEAI officer across all levels of leadership and thereby infusing our work with this ethos in a meaningful way. We are committed to creating more faculty positions that can ensure broader BIPOC representation—but, as I wrote in my last letter, our finances at the moment do not allow us to do that.
Curriculum and Research
In an extraordinary July GCM, BGC faculty proposed creating a new course, "Unsettling Material Culture Studies" that will be taught for the first time in spring 2021. The course will be led by Aaron Glass and Meredith Linn, and all faculty members will teach a section on "decolonizing" the various fields we represent, from decorative arts to archaeology to design history to materials science. BGC is also launching a new seminar on "The Arts and Material Culture of Africa and the African Diaspora" jointly convened by Meredith Linn, Catherine Whalen, and Drew Thompson of Bard College. We have continued to fine tune our Fields of the Future Fellowship to make it more clearly focused on diversity and more interesting to potential candidates. Fellows will have one more month's residence than before, give a Brown Bag talk; a second, sources-based seminar; and host two invited speakers of their choice. This is part of an active effort to recruit Black and Indigenous scholars and to increasing racial diversity among our guest lecturers, especially in "Objects in Context" and "Approaches to the Object."
Funding and Student Affairs
For those who have asked for higher doctoral stipends because you can't live in New York as a "full time" student on this amount of money, I fully agree. It's been a painful reality that all of us here acknowledge. We have, in the last three years, raised the annual stipend from $22,000 to $28,000, and extended the grant from four years to five. We know this isn't enough, and yet it's as much as we can do right now. We will keep looking to increase what we can give to doctoral students without, at the same time, starving the MA program. We are proud of the fact that we are among the few master's programs to provide financial aid. To the extent that the MA is an important feeder to doctoral programs around the country, and an important vehicle for bringing people from a variety of different undergraduate majors into our area of study, keeping the MA program vibrant is a key element in any DEAI strategy. And we are committed to this. But that means that we can't subsidize our PhD program by a fee-based MA program, as most universities do. Nor can we subsidize our graduate programs on the backs of our undergrads, as most universities do, because we don't have undergraduates. This is part of our particular set of structural constraints.
I would be happy to go into greater detail on these matters with you in person or on Zoom and I invite you, again, to join to the group discussions later this semester. These discussions will be the critical first step in moving our collaboration with you forward. I thank you again and look forward to working together to create a more diverse and equitable BGC.
Yours,

Prof. Peter N. Miller
Dean
June 24, 2020 Letter to Alumni
The following letter by Bard Graduate Center Dean Peter N. Miller was sent to all BGC alumni on June 24, 2020.
Dear Alumni,
This past month has witnessed an earthquake in many Americans' perception of themselves. I am writing to you today because, while it has been an awakening for me, personally, it has also been one for Bard Graduate Center as an institution. And in this period we have been confronted by challenges we heard directly from you. The criticisms have been fair, and we are grateful to you for holding us accountable.
Over the past several years, many of you have told us that BGC has a whiteness problem, and that we have not done an adequate job of supporting people of color in our institution. It's true that BGC is a more than predominantly white institution, and it's also true that we have let you down by not responding sufficiently or quickly enough when you shared your concerns. I am sorry we have not done better, sooner.
I want to use this moment to think about what we as an institution have done badly, and also to begin to lay out a vision of a different, better future. I'm told, that to do that, I should give you a bullet-pointed "action plan." It's at the end. But I feel you deserve more than that—a full and detailed account—because you are our community, and you need to know what we have been thinking and doing, as well as what we plan for the future, if you are going to trust us. So although this is a long letter, I do hope you will read to the end because it is important, and I want to share some changes that have been ongoing (but were not so visible) and others that BGC is making as a result of this reckoning and the rethinking that it is justly prompting.
For a very long time, we as an institution did not see anti-racist work as a high priority. We've put on no exhibitions about African or African American arts or artists, have had no faculty members who are Black and only a handful of BIPOC students and staff members. We've done better, at least since 2010, with Indigenous peoples and traditions, and have made some small strides in improving diversity in other areas. But if we are to live up to what this moment teaches us, then we have to honestly say that it is still nowhere near enough.
Some of our failures were on us—we could have done a much better job at seeking out BIPOC staff members, for instance—and some reflect failings of our field. Similarly, our attempts to recruit students of color have been largely unsuccessful: very few applications and even fewer matriculated students. Even when we have offered maximum funding as an enticement to choose BGC over another graduate program, it hasn't been enough to overcome the fact that there would have been few, if any, other BIPOC students here.
In spring 2016 a group of students challenged us to put more African American scholarship into the curriculum, more African American topics into the seminar series, and more African American faces into the institution. None of that happened, and it may have seemed like we weren't listening. Some things that we are doing now—see below—we could have done then, and I'm sorry we didn't.
But those students spoke well, and compellingly. They led us to think hard about what we needed to do. In the fall of that year, while reading about the Mellon Foundation's efforts to widen the BIPOC pipeline going into art history graduate programs and the museum professions, I thought about what our students had pointed out and what my experience as an administrator had shown me. I knew that the pipeline had to be a lot broader in high school and in college if there was going to be sufficient width at the graduate level. I felt strongly that we had to find a way to reach students in the public high schools before college. Since Bard had a network of high schools in New York City, it made sense to build on an existing relationship. (My daughter attended one of them, and I had lectured there.) We decided to create a program that would expose public school students to "museum studies" early enough that it might affect their choice of college major and, even, professional orientation.
The first of our efforts in this area, The Lab for Teen Thinkers, launched in the summer of 2017 as a paid internship program in which the students conducted object-centered research and gave presentations at the end of the summer. Since then we have hosted 32 students, approximately 11 each year, of whom 50% have been BIPOC. Alumni of this program are studying anthropology, art history, Medieval and Byzantine art and material culture, philosophy, and urban studies and architecture at University of Rochester, Ca' Foscari University of Venice, UPenn, Duke, and Columbia. This summer, we are expanding the program to 24 students, of whom 60% are BIPOC, with a curriculum based around Seneca Village, a nineteenth-century settlement of mostly African American landowners that was forcibly dispersed to create Central Park. Next summer we intend to add still more students and an additional concentration on cultural heritage science. Our numbers are only limited by our ability to fund each student's participation.
In spring 2018, as we looked to BGC's 25th anniversary, we held a community-wide event to establish priorities for the future. At the top of that list, generated by students, faculty, staff, and board members, was greater racial diversity, sensitivity, and openness. That fall we began a series of trainings on diversity, equity, access, and inclusion that led to the establishment of a working group of faculty and staff tasked to make formal reports and proposals.
Concurrently, Mellon was making serious investments in community colleges, where the vast majority of Americans receive their higher education. But was object-based teaching possible there? After further investigation, it appeared that LaGuardia Community College already had a strong focus on the humanities across their curriculum so a partnership with them was a great match. We advanced a collaboration modelled on our Focus Projects: a two-course sequence in which students do research on material evidence and then help develop exhibition materials. Because of Covid-19 we were unable to present this exhibition in our galleries, as planned, but
it is hosted on our website
. Roughly 30 LaGuardia students, more than half of whom are BIPOC, participated in this collaboration. This will be an annual project.
As we began our initial work with LaGuardia, in spring 2019, we began developing a fellowship designed to promote new voices in the field. We sought counsel from the Chief Diversity Officer and Associate Dean for Diversity, Access, and Inclusion of the Graduate School of Arts and Sciences at Emory University. We knew that "
a cluster hire
" of several BIPOC faculty members would be the best single move we could make to change our landscape, but it wasn't financially possible for us. Instead, we decided to develop a new fellowship program and asked for advice about how to insure a broad applicant pool. The dean worked with us on the announcement and provided names of key people in the field, as did other colleagues we consulted. Of the four fellows initially selected for 2020/21, two were African American and while only one accepted, this felt like an encouraging first try.
In just the way that one thing leads to another, one of the people to whom I sent notice of the fellowship asked about BGC resources for African American scholarship. I turned to the faculty and we compiled a list of lectures, events, and course readings on the subject from multiple faculty, courses, and seminar series. It made clear that while we had no single, visible platform for the study of African American material culture, we had been building a good foundation on which to have more conscious conversations about expanding this work.
A second development, also coming from the fellowship outreach, brought us into discussions with the directors of the Alliance of Museums of the Historically Black Colleges and Universities about launching a summer intensive at BGC similar to those they organize annually with University of Delaware, Princeton, and Yale, among others. We will begin this collaboration in summer 2021. In conjunction, we will offer two pre-doctoral summer fellowships for HBCU students to do research in New York, based at BGC.
This spring, after months of work and consultation, the faculty sub-committee of the Diversity, Equity, Access, and Inclusion (DEAI) Working Group presented its report to the Graduate Committee. Among other recommendations, it proposed that faculty pool resources and expertise to add discussions of diversity, race, and culture in their course offerings, and specifically African American material culture, where possible, especially in the required courses. A group of faculty have begun compiling a resource guide, and I am committed to supporting them in this, whether through professional development, facilitated group discussion, or collaboration with colleagues outside of the institution. This will start immediately; it has started immediately: we had a faculty discussion about it last night. I myself will begin the required "Approaches to the Object"
with a class that looks at history and material culture through an African American lens.
There is still one more project we are hatching, a really big, exciting initiative that will, among other things bring a new seminar series devoted to African and African American art and material culture to BGC in the next academic year. As there remain some details to be ironed out, we're not able to announce this just yet, but please stay tuned for news later this summer.
All of these initiatives—the Lab for Teen Thinkers; the LaGuardia collaboration; the research fellowships; the DEAI Working Group; our partnership with HBCUs; the push to expand our curriculum to include more diversity, specifically in African American material culture; and more—are part of our Fields of the Future Institute, a new think-tank within BGC that supports diversity and the development of next generation scholarship in decorative arts, design history, and material culture. It explores what our intellectual landscape could look like a generation from now by posing new questions and suggesting new ways to answer old ones, and most importantly, by bringing diverse and underrepresented voices into the scholarly conversation. It focuses on those not yet in graduate training and seeks to build the recognition that whether used in scholarship or not, research also provides tools for citizenship and effective participation in the global knowledge economy. All of this represents our aspirations for the next quarter century of our institutional existence.
I'm not saying that we can pat ourselves on the back. Far from it. But all of this was set in motion by your comments, four years ago, and we are grateful to you.
I have been talking about curricular matters, but in addition to this, I want to acknowledge that we need to listen more (and more intently) and do better with regard to BGC culture. The DEAI Working Group will begin working in earnest with current BGC students in the coming year. If there is a way you can envision yourself participating as an alum, please be in touch with me directly.
In the meantime, we have adopted the DEAI Working Group's first set of recommendations. Specifically, beginning this fall:
We will program racial justice training for all faculty, staff, and students.


We will develop a hiring toolkit of best practices for ensuring our searches are equitable and attract a diverse pool of applicants.
We will provide professional development opportunities for faculty and staff on an array of DEAI topics like interrupting micro-aggressions, racial justice, and compassionate leadership.
We will support faculty in researching and sharing best practices in the classroom around DEAI issues.
Above all, we are committed to change. As the history I narrated shows, we did not move fast. We absorbed the challenges, thought about where we could make a real contribution, and then moved, one step at a time. Maybe you're skeptical, reading a lot of letters of this sort, about an institution's ability to go from doing nothing to the long lists of things to be done. I would be, too. But we're not talking about some "bolt on" solution in response to a crisis; this is rather the result of student concerns prodding us to expand our work over time. Wearing my historian's cap, I'm pretty confident that our way of making change is the one that is the more long-lasting.
We may still act with the energy of a start-up rather than a settled bureaucratic corporation, but the fact is we have attained the leadership position that we aspired to 26 years ago. With leadership comes responsibility and, in this case, it's to a future that is bigger than any curriculum. As I've tried to show, changing a culture—really making meaningful change—is slow work. But when I think of what we have put in place in these last few years it makes me feel more confident about our ability to sustain change and advance it. I have no illusions that we can, overnight, become the institution that we wish to be. There remain things we have to do better. But I also have no doubt that we will get there, here on West 86th Street, and together, wherever you are.
The director always describes you, our alumni, as our best ambassadors. For that reason, you need to hear from us about what we do well, and are proud of, and what we are not proud of and need to do better. I write this letter to continue the conversation, so please be in touch if you have any questions or ideas you would like us to consider.
With my best wishes for a summer of reading and thinking.
Yours,

Prof. Peter N. Miller
Dean