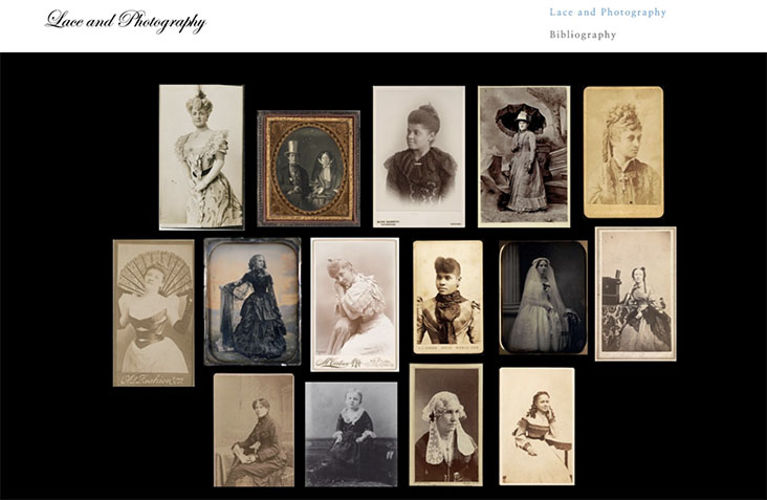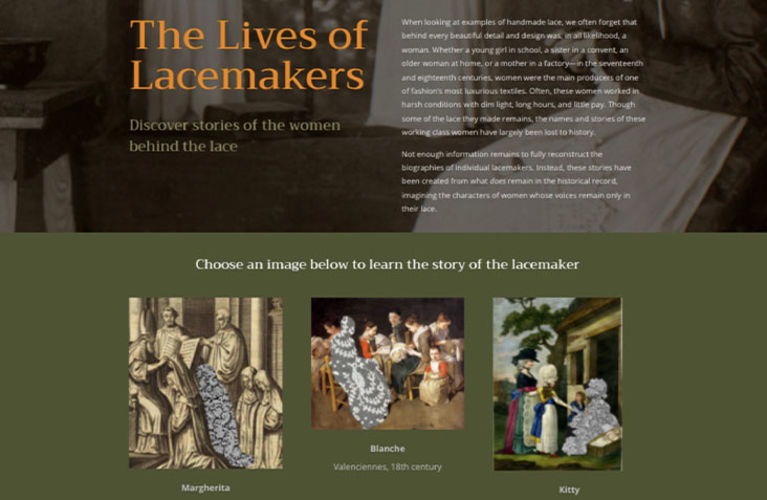 Up in the morning, before it is light,
Done all her work before it is bright,
Down at her pillow she sits so complete
Like a lacemaker, working so neat,
With fingers so lissom, and bobbins so small,
While the poor servant girl goes down to the hall
With holes in her stockings and rags on her back.
I'll be a lacemaker, if ever so slack.
I'll turn over timber sticks,
Put in my pin of wire,
My wire pin is in,
I'm one the nigher.
—Baker, A. E.
Glossary of Northamptonshire Words and Phrases.
London: Russell Smith, 1854.
In professor Michele Majer's 2021 fall semester course, "Threads of Power: Lace from the Textilmuseum St. Gallen," Bard Graduate Center students were confronted with the often harsh realities of lacemakers—the countless unnamed women and children whose plights and stories have not been recorded. For centuries, the idea of a lacemaker, idyllic and patiently toiling away at her pillow, has remained a quintessential image in the minds of many, perpetuated by the abundant quantity of extant genre scenes, such as
The Lacemaker
(ca. 1699–70) by Vermeer.
The English work song quoted above, recorded in a glossary from 1854, is demonstrative of the archetype, yet intriguing to the modern scholar in search of understanding the lives of lacemakers who were simultaneously revered and belittled across different locations and periods in history.
Led by Majer's research for the upcoming
Threads of Power
exhibition, co-curated by Majer, Emma Cormack (BGC associate curator and MA '18), and Ilona Kos (curator at the Textilmuseum St. Gallen), students traced the history of lace and lacemaking from its beginnings in the sixteenth century all the way to the present, learning about the techniques behind bobbin lace, needle lace, chemical lace, and more. Student learning was supplemented by weekly guest lectures and research on several objects from the Textilmuseum that will be featured in the exhibition for individual catalogue entries. An especially notable field trip to the Antonio Ratti Textile Center at the Met provided the opportunity to watch a demonstration of Genoese bobbin lace handkerchief edging by Elena Kanagy-Loux, the Center's collections specialist and an expert lacemaker, and to engage in close looking at several pieces of lace in the Met's collection. Majer, Cormack, and the students agreed that it was essential to see lace in person.
The course not only allowed students to learn about an extremely rich topic of textile and fashion history, but they also received weekly updates regarding planning for the exhibition, including access to early drafts of catalogue essays, visits with curators, and insights into gallery logistics which were a great help in creating their final projects. Despite the challenges of teaching a course about an exhibition whose moving parts have not been finalized, Majer and Cormack believed it was important to collaborate and let students into the process. For the final component of the course, the class divided into three groups to create digital interactive prototypes, with the help of Jesse Merandy, BGC's director of digital humanities/digital exhibitions, which will be further developed and incorporated into the exhibition. Majer and Cormack stressed the positive impact of expanding the curatorial vision to include student input, as other voices only help to enrich visitor experience.
To enhance visitor understanding, each group of students was assigned a topic that had not yet been addressed in the exhibition, including the lives of lacemakers, openwork and lace in New Spain and the Andes, and lace and photography in the nineteenth century. Caroline Elenowitz-Hess, Grace Billingslea, and Isabella Margi collaborated to design and create a digital interactive in the form of a website that reveals details about the lives of European lacemakers in the seventeenth and eighteenth centuries, craftspeople who have been excluded from the historical record. The group created several fictional lacemakers based on limited surviving research and designed a clickable, navigational toolbar leading visitors through several fascinating pages about these workers' upbringing, education, and the local industry where they worked.
Meanwhile, classmates Kenna Libes, Mary Adeogun, Zoe Volpa, and Maura Tangum discussed how Indigenous openwork and weaving techniques in the Spanish colonies interacted with traditional European lacemaking, a subject they felt important to feature in this exhibition which largely examines western forms of lacemaking. Their interactive investigates extant Chancay gauzes and Peruvian lace motifs. Ariana Bishop, Emily Harvey, Samuel Snodgrass, and Antonia Anagnostopoulos selected several nineteenth-century photographs of people wearing lace in the United States to showcase the manifold stories of individual consumers of lace. Each photograph was accompanied by detailed research about the model, what kind of lace they wore, and entertaining historical anecdotes. This digital project provided students the perfect opportunity to engage with a museum audience and create a supplementary learning experience in an age when it is more prevalent than ever for museums and galleries to adjust their programming to incorporate digital content that can be accessed from home.
At the last meeting of the course, Anagnostopoulos brought in an antique collar she believed was lace to share with her peers and the curators. After a perplexing discussion, the class concluded it was in fact not lace, but crochet. Majer quipped, "Well, what is lace?"—after all, that is the perennial question. Amused, the class laughed knowing they could talk about the illusive textile for hours.
Threads of Power: Lace from the Textilmuseum St. Gallen
will open in September 2022 at Bard Graduate Center Gallery.
---
Isabella Margi is a first-year MA student.