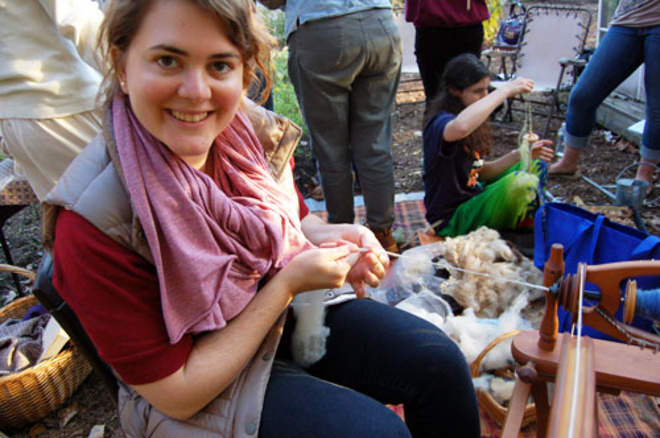 Recent Bard Graduate Center alumna, Rachael Salisbury (MA 2011), has been living in Charlottesville, Virginia this past year establishing a botanical garden at the University of Virginia that is based on Thomas Jefferson's plans. Rachael and Lily Fox-Bruguiere started the Thomas Jefferson Demonstration Garden with a clear mission to teach the public about the importance of plants—an idea championed by Jefferson. In 1826, Jefferson wrote to a professor of natural history at the University suggesting that he create a garden for the study of botany. Jefferson provided a list of plants, the location of the proposed garden, and a description of the space.
The history of Jefferson's plan was the topic of Lily's master's thesis. Upon completing the BGC master's program, Rachael returned to Charlottesville to bring her outlook to the project. While Lily approached it from a traditional historic perspective, Rachael used her BGC training to think about the role gardens play within cultural and social history.
The two conceived of the idea not only to create Jefferson's garden in an historically accurate way, but also to use it as an entry point to teach courses, to involve students in the planning, implementing, and maintaining of the garden, and to develop a community program with student volunteers. After Hereford College, a residence college at the University, donated space for the garden, Rachael and Lily received two grants to begin work and enlisted the aid of a group of graduate students in the landscape architecture program. This past summer marked the culmination of the first year of the pilot project, with the first successful season of planting, growing, and harvesting plants. Rachael and Lily developed educational materials for the project, organized visits from local schools, and offered tours. Perhaps one of the most eye-opening experiences for visitors was the harvesting of peanuts, since many never realized before how they were grown.
Even though the summer is over and the garden lies dormant, the project continues to be an important component in the life of the University and the community. This fall Rachael and Lily are teaching a course that focuses on the garden's collection of useful plants. The internship program they developed for students will continue into the fall. They are also working to make the Thomas Jefferson Demonstration Garden a permanent fixture at the University. Indeed, Rachael and Lily have plans to teach a course about Thomas Jefferson and his relationship to the natural world every semester.
To learn more about the Thomas Jefferson Demonstration Garden visit their blog at www.tjdemogarden.wordpress.com