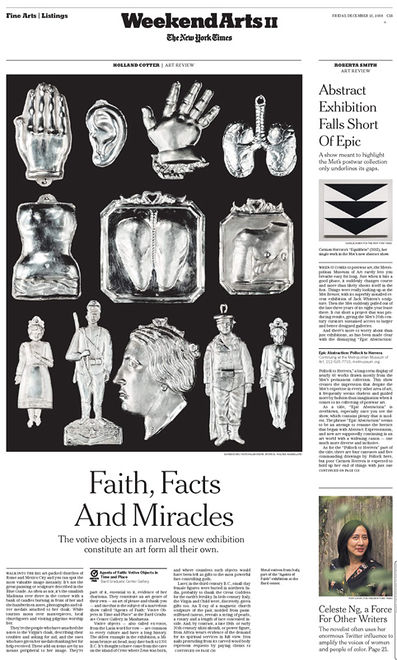 Holland Cotter's review of
Agents of Faith: Votive Objects in Time and Place
appeared in the December 21 issue of the
New York Times:

Walk into the big art-packed churches of Rome and Mexico City and you can spot the most valuable image instantly. It's not the great painting or sculpture described in the Blue Guide. As often as not, it's the smallish Madonna over there in the corner with a bank of candles burning in front of her and the handwritten notes, photographs and silver medals attached to her cloak. While tourists moon over masterpieces, local churchgoers and visiting pilgrims worship her.

They're the people who have attached the notes to the Virgin's cloak, describing their troubles and asking for aid, and the ones who have given her medals thanking her for help received. These add-on items are by no means peripheral to her image. They're part of it, essential to it, evidence of her charisma. They constitute an art genre of their own — an art of please-and-thank-you — and one that is the subject of a marvelous show called "Agents of Faith: Votive Objects in Time and Place" at the Bard Graduate Center Gallery in Manhattan.

Votive objects — also called ex-votos, from the Latin word for vow — are common to every culture and have a long history. The oldest example in the exhibition, a Minoan bronze ax-head, may date back to 1700 B.C. It's thought to have come from the cave on the island of Crete where Zeus was born, and where countless such objects would have been left as gifts to the most powerful fate-controlling gods.
Read the complete review
here
.