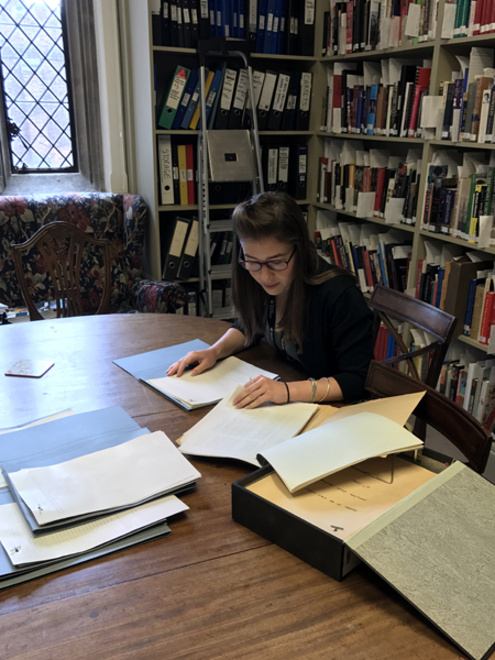 Hampton Court Palace is world renowned as one of the largest intact Tudor buildings in the United Kingdom. It only seems fitting that my experience assisting in research as a curatorial intern for two months this summer revolved roughly around three future exhibitions focusing on different aspects of the Tudor court and the life of Henry VIII.
Assigned to the Buildings History curatorial team, a major on-going project I led was archiving transcripts of the History of the King's Works from the 1530s. Devising a strategy of how to protect the now ageing typewritten transcripts, each grouping of one year was subdivided into fortnights and put in more stable storage that allows for greater ease of access for future researchers. I also brought together sources that described the interior spaces of the royal private apartments in order to piece together what those spaces would have looked like in the time of Henry VIII—from ceiling decorations, quantities of wainscotting, and specific furniture to specific rooms within these constantly evolving lodgings. Additionally I assisted in researching canvas measurements and varieties from the sixteenth century to shed further light on Tudor tents primarily used during travel for military campaigns. As well as working with the curator of the Royal Ceremonial Dress Collection originally at Kensington Palace, I prepared for external storage audits by finding relevant correspondence relating to the ownership of certain objects. This related to further research on Tudor textiles in particular linking a piece referred to as the Bacton Altar Cloth to members of court under the reign of Elizabeth I.
The technical history of textile structures that many courses at BGC provided were incredibly important in my research work on the interior design of royal private spaces and informed discussions of the significance of materials within dress history. The emphasis on understanding historical production techniques in my master's coursework fueled my interest in participating in a course on Developing Goldwork Embroidery Samples at the Royal School of Needlework located within the palace complex. This experience of practical research, generously funded by The Embroiderers' Guild of America, further strengthened my research on the uses of cloth of gold and cloth of silver within two realms of Tudor life, namely ceremonial tents that served as portable palaces as well as in royal dress and courtly systems of gift giving.
Because I was thrown into discussions on archeology, buildings history, site conservation compliance, archival processing, tapestry conservation, preventative conservation through 3-D dust mapping, academic research, and the future for digital initiatives, this work experience has given me tremendous insight into the heritage sector. All set against the beautiful palace surroundings, our offices were accessed via turret stair and overlooked the court garden blooming with millefiori plants depicted in this eponymous style of tapestry design. Visiting the various sites maintained by Historic Royal Palaces created a dialogue between different neighborhoods within London, but also provided a gateway into a diverse range of interpretive time periods as early as the twelfth century (Tower of London) all the way through the late nineteenth century (Kensington Palace). This was a truly magical experience that I would strongly recommend to students with interests in curatorial interpretation of historic houses, buildings conservation, or the architectural origins of English country house design.

— Carson Wos