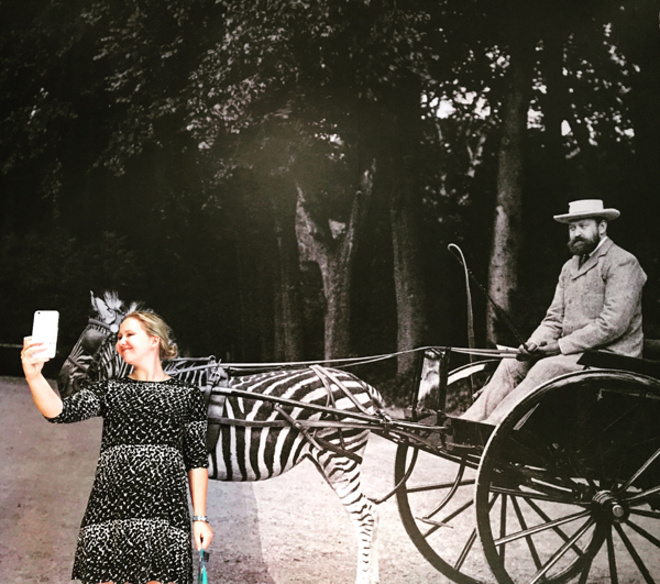 For seven weeks this summer I had the incredible privilege of being the Bard Graduate Center curatorial intern at Waddesdon Manor in England. It was an outstanding experience and one where I learned more than I could have ever imagined going into the summer.
During my first year at BGC, I nurtured my love of eighteenth-century French material culture—my academic interest is specifically the history and impact of eighteenth-century Sèvres porcelain— through the courses I took, especially Susan Weber's "Western Furniture: From Antiquity-1830" and Andrew Morrall's "Survey of European Ceramics, 1400-1900." This, combined with Waddesdon's extremely strong collection of eighteenth-century French decorative arts, in general, and Sévres, in particular, made applying for the internship an opportunity that I couldn't pass up. After I learned that I had received the internship in February, I was told that I would be working with the collection department's new curator of decorative arts, Mia Jackson, and that my long-term project would be cataloging data regarding Waddesdon's Sèvres collection.
My induction to Waddesdon was, as Mia called it, "a baptism by fire," as I arrived just before the summer openings of Senior Curator Juliet Carey's Power & Portraiture and Mia's Creatures & Creations exhibitions. Following the whirlwind of the openings, I settled into a more routine schedule. My typical day began by walking up about a half-a-mile hill from the village to the manor. I would then check emails, have coffee with Mia in the department kitchen, do research on Sèvres, accompany Mia or Juliet as they led visiting scholars or artists through the collection, and take a walk through the house after visitors had left to look at something specific or see that items were being properly looked after. Each day provided me with new challenges and opportunities to learn from.
Throughout my seven weeks, in addition to the exhibits, I worked on cataloguing all of the Vincennes/Sèvres painters employed at the French factory from its inception to about 1830 into the collection's online database, assisted Juliet in compiling research for articles she was writing on sixteenth-century Elizabethan portraiture, attended a two-day symposium in London on the splendor of dining through the ages (which focused on continental porcelain impact on dining history), and so much more. The internship provided me with constant experiential learning, whether it be handling Sèvres porcelain to learn how to 'feel' the difference between soft and hard paste porcelain, interacting with the public during the annual Feast weekend teaching them about the function and purpose of an eighteenth-century Meissen ice-cream-cooler or a nineteenth- century coal-scuttle used during Waddesdon house parties, traveling to Northampton to spend days in the record office archives in an effort to track down an important piece of furniture whose provenance is currently being worked on by Mia and Ulrich Leben, Waddesdon's furniture curator, or walking with Mia and her two energetic Jack Russells on the grounds after work and chatting about all things eighteenth-century France. Above all, everyone that I worked with at Waddesdon was beyond generous in taking their time to answer my questions, introducing me to people in the field, and teaching me more than I could have ever dreamed.

— Avery Schroeder