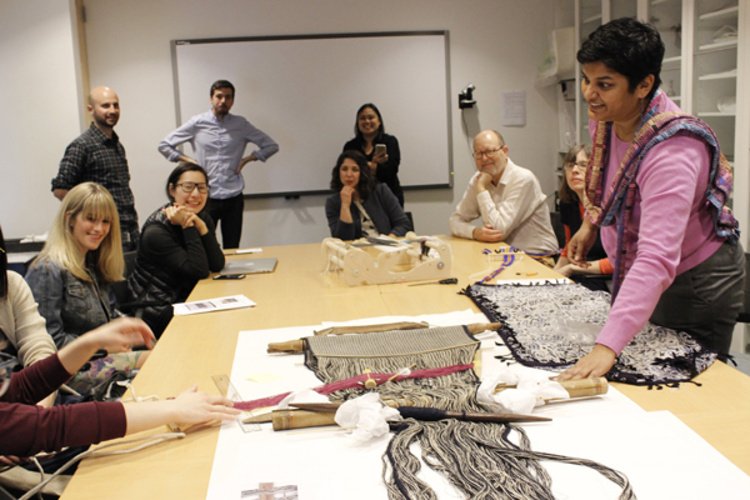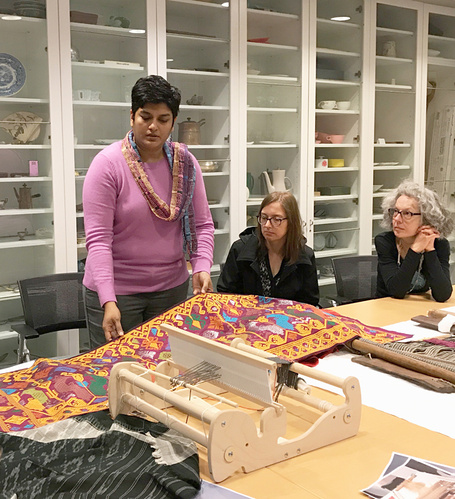 On April 10,
Urmila Mohan
led an Object Hour talk that started with a discussion of a backstrap loom from the Philippines. Part of the Bard Graduate Center study collection, it is an example of Southeast Asian body tension looms. The discussion also centered on a comparison of looms ranging from a model backstrap loom to a simple tabletop loom.
Daisy Adams
, a student in Mohan's course, "Fabricating Power in Balinese Textiles," talked briefly about how she studied the bodily techniques used in weaving by examining the BGC loom as well as similar ones in the American Museum of Natural History. Mohan then proceeded with a longer talk that covered various kinds of ritual cloths from Bali, Indonesia, sharing her experiences from a visit to that island as well as Balinese textiles from her personal collection. She discussed the iconography, materials and methods by which these cloths would be made and used in Bali in various rites of passage.
Throughout the talk, she used various cloths as prompts for discussion of aspects of Balinese Hindu cosmology and philosophy—where textiles act as wrappers and containers that cover, protect and orient the subject, whether in ceremonial or everyday life.