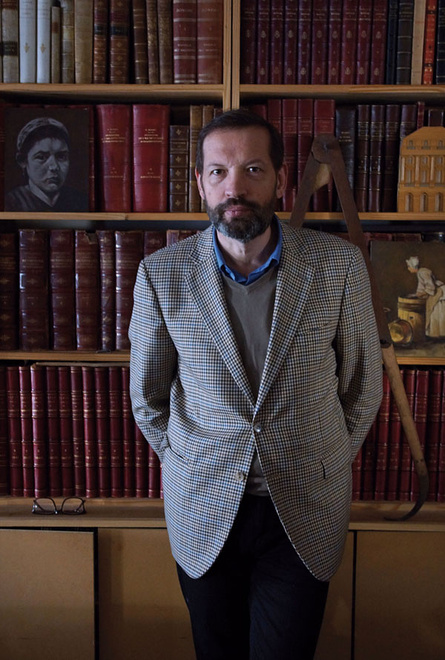 Jean-Philippe Garric
, curator of
Charles Percier: Architecture and Design in an Age of Revolutions,
is an architect and a historian; he is Professor of History of Architecture at the Université Paris 1 Panthéon-Sorbonne. He has been a Fellow at the French Academy in Rome and Deputy Director of Research at the Institut national d'histoire de l'art in Paris. Professor Garric has published numerous books, articles, and essays on Charles Percier over the past ten years in both French and Italian, including
Percier et Fontaine, les architectes de Napoléon
(Paris: Belin, 2012). He is currently publishing a critical edition of Pierre Fontaine's memoir,
Mia Vita
, to be released in March 2017.
How did you become interested in the work of Charles Percier?
My first encounter with Charles Percier was through the first book he published with Pierre Fontaine in 1798,
Palais, maisons et autres edifices modernes dessinés à Rome
. I was a twenty year-old architecture student when I purchased a copy of this book. It was my first old book of architecture and, although I was immediately captivated by its material and graphic qualities, it was quite an enigma for me at that time. It took me a while to understand its meaning. A few years later, the research project I conceived for my stay in Rome, at the Villa Medici, was focused on the analysis of this book, and it was again a central object in the PhD thesis that I began when I came back to Paris. Starting with the architectural Italian models published in this book, my interest in the work of Charles Percier has progressively reached all the other dimensions of his work.
In your view, what is the single most important aspect of Percier's life and work?
Percier is the architect who played a central role in establishing the way architects have been educated in France and beyond up until the First World War. His legacy as a teacher is profound. He counted among his students sixteen Prix de Rome winners and seven members of the Institut de France. Moreover, one cannot imagine Garnier's Opera house or the Gare d'Orsay without his influence.
Why an exhibition on Charles Percier now?
The exhibition presents the work of Charles Percier alone for the very first time. During his lifetime Percier was very well-known and his work valued especially within the architectural profession in France. One major goal is to restore his place within the history of architecture. Another is to untangle Percier from his business partner, Pierre Fontaine. The publication of the widely circulated
Receuil de décoration intérieures,
effectively cosigned by Percier and Fontaine, might have been conceived by only one of them. Thus, it may make more sense to understand their conjoined signatures as something like a commercial brand, as opposed to an indication of shared artistic paternity.
Is there one object that is particularly representative of the exhibition for you?
What sets Percier apart is his emphasis on very high quality drawing which created a close link between architecture, interior design, and ornament. Percier was a draftsman and one of the most interesting drawings in the exhibition is the sketch for the tribune built for the distribution of the eagle standards on the occasion of Napoleon's coronation in 1804. This large drawing executed on several joined sheets of paper isn't as perfect or highly finished as many others because it's not a presentation drawing but rather a working drawing, where some parts are left rough while others are rendered with extreme precision. Although it remains imperfect and unfinished, this is a precious document for understanding Percier's creative process.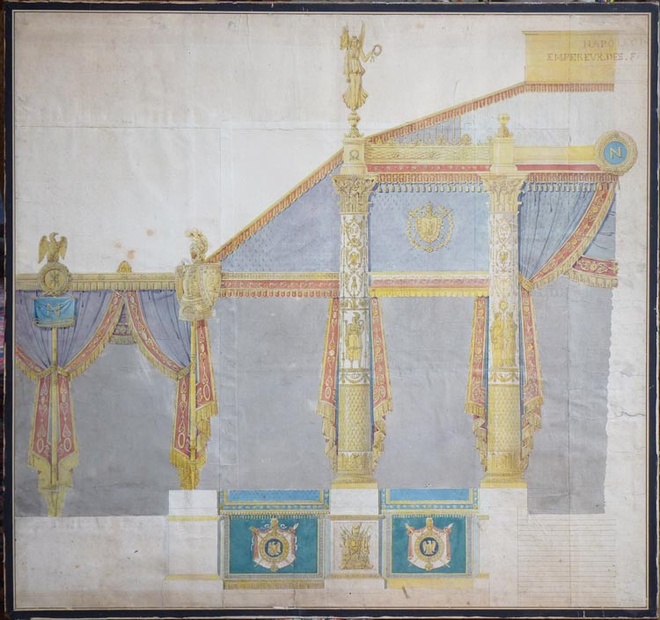 Does Percier provide any lessons for us today?
Percier faced change with astounding flexibility. When he left Paris to study at the French Academy in Rome, he was preparing to become a court architect and to work for aristocratic patrons. But when he came back to France in 1791, in the middle of the Revolution, that world didn't exist anymore. His role has been to transform the legacy of the eighteenth century to shape the nineteenth, to adapt to the first system of industrial production. Percier was never attached to the exclusive service of one patron nor linked to one political party. In that sense he played a main role in affirming the autonomy of the artist, characteristic of the twentieth century.