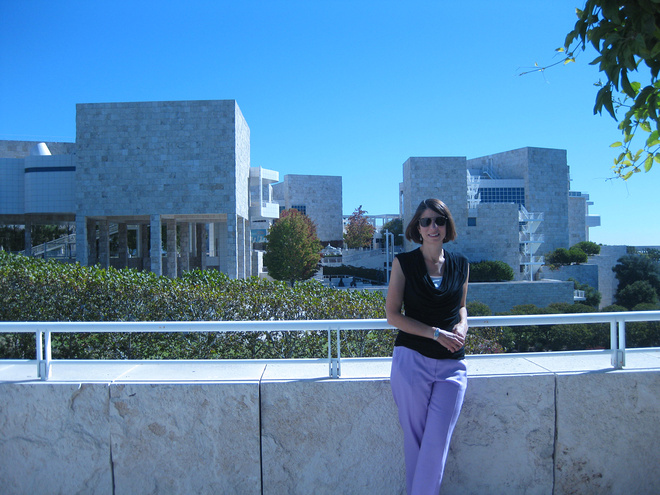 Marlyn Musicant (MA 2002) is the senior exhibitions coordinator at the Getty Research Institute (at the Getty Center) in Los Angeles, which is dedicated to furthering knowledge and advancing understanding of the visual arts. From 2010 to 2013, she served on the Cultural Affairs Commission for the City of Culver City. Her research specialties include twentieth-century design and architecture—particularly German Modernism and the history of architecture and planning in Southern California.

What attracted you to the BGC's Master's program?
While studying art history as an undergraduate, I was invited to participate in a seminar on Art Nouveau, where I became completely fascinated with the work of the German architect and designer Peter Behrens. That led to an interest in the Deutscher Werkbund, Wiener Werkstätte, Bauhaus, and the Arts and Craft Movement in Britain. At the time that I was considering applying to graduate school, I was working at the Craft and Folk Art Museum in Los Angeles. My experiences at CAFAM further strengthened my interest in material culture. I was attracted the BGC because of its emphasis on decorative arts and its inter-disciplinary approach to material culture.
What was your focus of study here, how did you find yourself involved with it?
While I was at the BGC, I focused a great deal on textiles and fashion. My thesis was about the textiles of Maria Kipp, a German émigrée who settled in Los Angeles in the 1920s and manufactured hand-woven textiles for architects such as Rudolph Schindler. The highlights of my study at the BGC include Michele Majer's seminar on the History of European Textiles, and Kevin Stayton's course on American Decorative Arts. The History of the Idea of Taste with Rochelle Gurstein was another highlight. These courses stand out for the ways in which the curricula incorporated economic, political, social, and technological issues into the instruction—for example, examining Italian Renaissance sumptuary laws while studying Italian velvet, reading contemporary literature such as Balzac, Trollope, and Dreiser while studying fashion, taste, and consumerism, and learning about how the discovery of the Comstock Lode affected the production of American silver.
Describe your position at the Getty Research Institute and your current projects.
As the senior exhibitions coordinator at the GRI, I oversee two galleries with a total of 3,000 square feet. I also pursue my own research and writing. Managing exhibitions gives me the opportunity to work with colleagues across the institution, from curators and designers to media producers, communications staff, and art handlers. I create schedules, manage budgets, draft contracts, and spend a great deal of time reminding my colleagues about their deadlines. I can frequently be heard saying "that's not in the budget" and "your exhibition labels were due weeks ago." These are the more tedious aspects of my position. The collections at the GRI are rich and widely varied, and with each exhibition I learn a great deal about topics ranging from Russian avant-garde books to printmaking in the age of Louis XIV to performance art. My own research remains focused on twentieth-century architecture and design. I've studied the archive of Karl Schneider, a German émigré who was forced by the Nazi party to close his practice in Hamburg and went on to become an industrial designer and in-house architect at Sears in Chicago. My article on Schneider appeared in a 2012 volume of the Getty Research Journal. More recently, I have completed work on a book (Los Angeles Union Station, forthcoming from Getty Publications, 2014) and have been organizing an exhibition on the history and architecture of Los Angeles Union Station, a 1939 Mission Revival landmark with Art Deco and Streamline Moderne details. The exhibition, which is scheduled to take place on the seventy-fifth anniversary of the station, will be drawn from the GRI's vast collection of over 6,500 drawings and 800 negatives. The exhibition will be on view at the Central Branch of the Los Angeles Public Library from May 2 through August 10, 2014. BGC Alums are welcome to contact me for tours!
What, ultimately, is your professional goal?
I would like to continue pursuing my interest in twentieth-century decorative arts and immersing myself in primary research. Eventually, I would like to become the director of a mid-size museum or library with special collections. In the meantime, I plan to continue managing exhibitions. At some point, I'd love to learn to play the guitar.